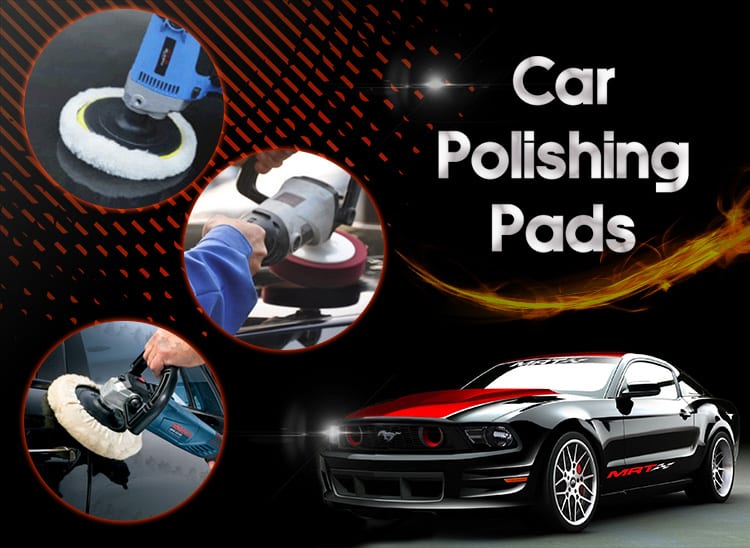 Car Polishing Set Wool and Foam Pads
Yellow Wool (Medium Cut): Everyday cutting for average cars, light oxidation Add compound for a flawless finish on base coats A must have in every detail garage.
White Wool (Heavy Cut): Very aggressive cutting pad, works fast while reducing risk of burning For heavily oxidized or pitted finishes Removes wet sand scratches up to 1200 grit. 
Orange Foam (Heavy Cut): This high density pad is an all-around general compounding / polishing pad for removing water spots, moderate to heavy oxidation and light surface scratches 
Black Foam (Finishing): No-cut pad strictly for applying glazes, waxes and sealants Easily applies product in thin, event coats Used as a final step finishing pad.
 Backing plate has standard 5/8″ polisher threads; Provides a no-slip grip and allows for quick pad changes, includes a 1/4″ Drill Shank Adapter that allows you to use the pads on drills and grinders.
Buffing tips:
-Match the right buffing pad to the right polishing material. 
- When finishing with a polish or glaze, don't buff dry. Leave a little material on the car, because without it,
you create friction. 
- Use a spur to clean your buffing pads, not sharp objects like screwdrivers, etc.
-Stay within recommended RPMs when buffing car
-Wear eye protection
More Details Photo:
More Types Car Polishing Pads: 

---
Previous:
Hot Sale Felt Laptop Bag
---