A previous post, on why laundry softening products are a real problem, continues to strike a chord with thousands of readers. I know because you send me messages and letters, which I love—even ones from some who are not 100% satisfied making the switch from problematic laundry softeners to wool dryer balls. But first, let's review the problem:
The Trouble with Fabric Softeners
The National Center for Biotechnology Information, reports that the perfumes and additives in laundry products may cause skin problems. Fabric softeners are very allergenic and can cause eczema, which appears as dry, itchy skin.
Dryer sheets contain fragrance and volatile organic compounds like acetaldehyde and butane, which can cause respiratory irritation. Fabric softener chemicals known as quaternary ammonium compounds have been linked to asthma. Acetone, also used in dryer sheets, can cause nervous system effects like headaches or dizziness.
Fabric softeners are also known to reduce and finally eliminate the effectiveness of water-resistant materials and reduce the absorbency of terry cloth and microfiber towels.
If you find your towels aren't drying as well after a few cycles with fabric softener—liquid softener in the washer and or dryer sheets in the dryer—it's time to find a better alternative that will give great results without doing harm.
Why wool dryer balls?
These things look like overgrown tennis balls, made of 100% wool yarn, that over time becomes "felted*" making them especially durable and not at all prone to unraveling. One set of quality wool dryer balls will last what seems like forever, softening thousands of loads of laundry—no batteries, refills, repairs, or reconditioning required. It's one (purchase) and done!
*Felting is a process that causes a natural fiber felting yarn, like wool, to fray slightly and fuse to the other fibers around it, creating a more solid fabric-like appearance.
How do wool dryer balls work?
Imagine a big load of wet bath towels going into the dryer. You hit "start" and that massive wad of wet fabric will flop around and stick together for quite a while until the layers become dry enough to separate and allow warm air to circulate. That slows the drying time, wasting time and energy.
Now imagine six wool dryer balls bouncing around (I use my entire set of six in every load), working their way between the layers of fabric, separating them so the warm air can circulate efficiently from the very start of the cycle.
I've tested drying times with and without wool dryer balls, and the results are quite amazing. Wool dryer balls cut at least 25% off the time to dry a load of laundry, saving time and energy. I have also found these balls stuck tightly in the long sleeve of a tee-shirt and the pocket of a pair of jeans. They work their way into tight spaces and that's what makes them so awesome.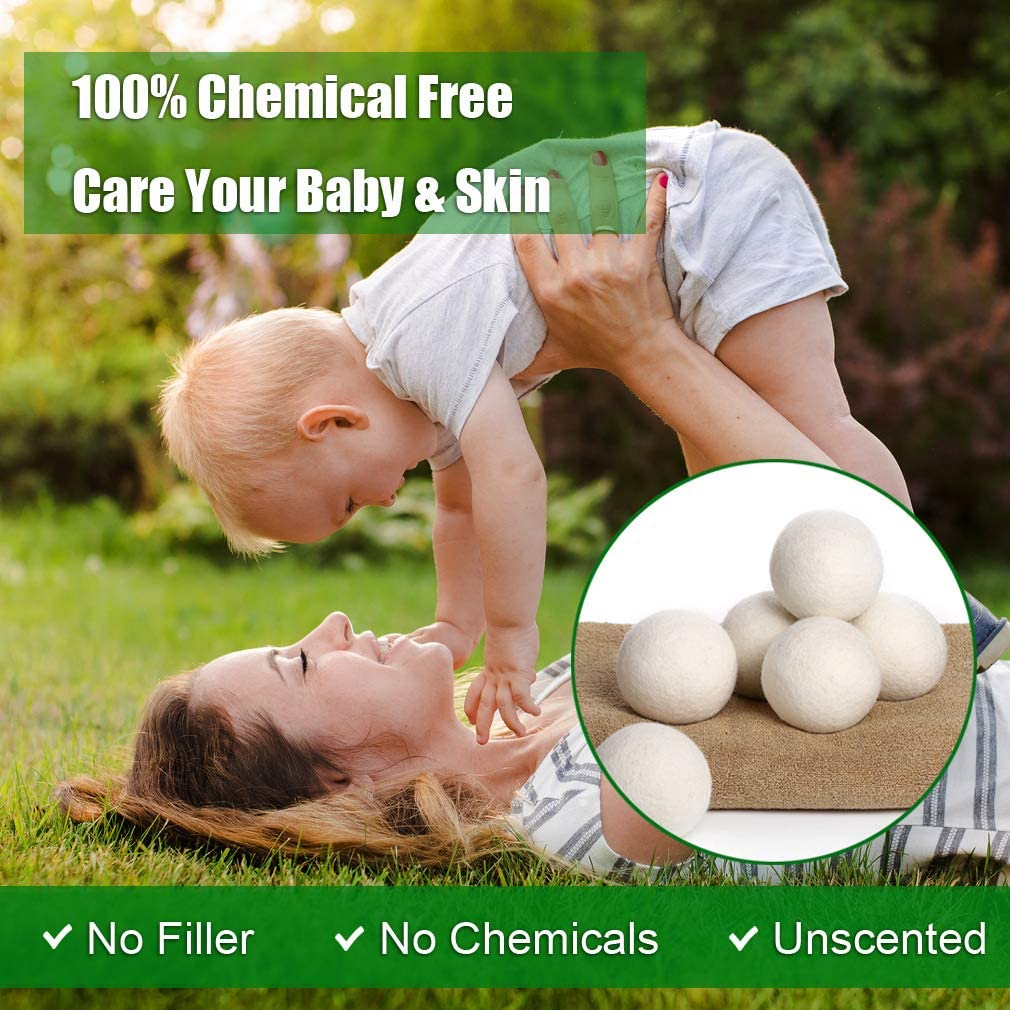 ---
Post time: May-17-2022